Renex Valves with an experience of more than 48+ years in engineering industry is a renowned manufacturer of high performance Engine Valves and Valve Train Components under The Brand name 'RENEX', serving OEMs & Aftermarket in local and global market. Our range of products includes Engine Valves, Valve Guides, Valve Seats, Cotters/Collets, Push Rods and Tappets for various applications. Each of these products is manufactured specifically to suit our customer's unique application and functional requirements. With wide range of products, we are export ingour products worldwide to aftermarket and OEM.
The Company was founded in 1975 by Mr. Vallabhbhai Khunt – a farmer from small village having previous business of retail fabric. Mr. Bharat Khunt elder son and two younger son joined the company as working partner and the company started growth by manufacturing Engine Valves and valve train components supplying in most other advance Countries.
Over the years, the company has grown significantly in size and volume and equipped itself with necessary resources to meet the growing demands of the industry. All our engines valves and components are manufactured in our state-of-the-art manufacturing facility at Rajkot, Gujarat, India. With modern infrastructure, our World-class 10,000 sq. ft. facility is equipped with latest technology in plant machinery, advanced quality control lab and R&D department etc.
Our rigorous and ethical business practices coupled with a streamlined manufacturing process has enabled us to earn ISO 9001:2015 Certification from TUV SUDDEUTSCHLAND of Germany.
Renex Valves sets professional, reliable and friendly customer service as one of its great virtues. Our ability to provide advance customer services, engineering support, close and immediate attention, and constant availability has created a fixed yet dynamic work environment and relations between the company and its range of satisfied customers.
Renex Valves continuously invests in the intensification of its technological pulse beats. Development of new, improved and user-friendly customer service tools is taking a major part of the foregoing efforts, investments and management decisions.ds
Ethics and integrity are the foundation of our brand and the guiding principles for all we do. We lead with openness, fairness, and integrity. We believe that by treating our clients, people, and suppliers fairly and respectfully, we will earn their trust and build sustainable success together.
We inspire empowerment. We encourage problem-solving, communication, and employee involvement at every company level. We strive to learn, adapt and move forward continually.
"To be a preferred supplier of high-quality Engine Valves and other components manufacturing services to a group of leading OEM customers in the Automobile, marine, and locomotive industries."
Renex Valves strives to help OEMs and manufacturers to lead their businesses through the design and manufacturing of high-quality, innovative products.
We constantly strive to improve the efficiency of our business by investing in the development of our people and through innovation in technology, operations, and processes.
Renex Valves strives to help OEMs and manufacturers to lead their businesses through the design and manufacturing of high-quality, innovative products.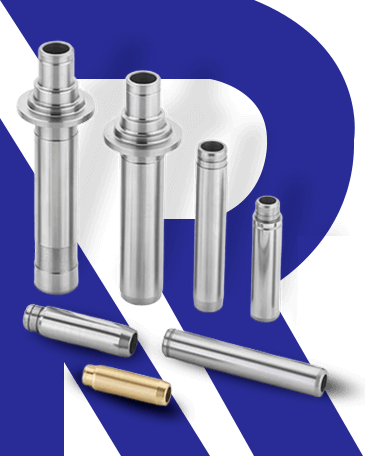 International quality products at a competitive price.
Lean, Flat and Focused Organization.
Integrated ERP system for all major functions.
Maintains full Lot Traceability through the Job card system.
Prompt customer response with minimal tool development lead time.
In-house Tool-room facility.
Strict adherence to delivery schedules.
Forging is available through our sister concerns.
Localized vendor base for Casting & other input of raw material.
We are at low cost region of India.
Believes in Latest Technology – Brand New Machines, Equipment's & updated information.
Raw Material Inventory of over 200 MT of Round and Hex Bars to offer Quick Deliveries.
Customer end rejection controlled within 100 Parts Per Million
Renex Valves is focus on RCI (Relentless Continuous Improvement).